Don M. Patterson's Sierra Blanca ended up on my list of favorite Texas crime novels and thrillers of 2017. It features CIA operative Hank Copeland teaming up with a handful of  Lone Star lawmen to take down a Russian plot involving drug cartels on the border in 1984. Its swift storytelling, action-packed plot, and fun characters made it one of last years' most entertaining reads. Don will be joining us on February 10th with Alex Berenson but was kind enough to answer come questions for us earlier.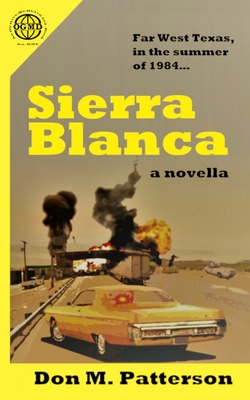 MysteryPeople Scott: Sierra Blanca is one of those rare pieces of entertainment that is fresh yet a throwback to earlier books and movies. How did it come about?
Don Patterson: Sierra Blanca began with the idea of creating a spy character that is as Texan (specifically West Texan) as James Bond is British; and that became Hank Copeland.  Once I started playing around with story ideas for a West Texan spy, doing a Western, or neo-Western, was a natural conclusion.  Westerns – the spaghetti variety in particular – and espionage have always been favorite genres of mine, so I set out to create a story that took the recognizable tropes from each and co-mingled them into something new: a Spy-Western.
MPS: You have classic buddy dynamic with Hank Copeland and Sheriff Clearwater. How did you approach that relationship?
DM: The Howard Hawk classic film Rio Bravo was a major influence on Sierra Blanca and I looked at Copeland as Dean Martin to Clearwater's John Wayne.  Copeland's lackadaisical attitude to his job provides a foil to Clearwater's tough lawman demeanor.  But I think what really makes the dynamic work is that I didn't write Copeland as the driver of the story's action, but rather the facilitator for other characters to act.  The real heroes of the story are Texas Ranger Burgos and Sheriff Clearwater; Copeland is mostly along for the ride and to hopefully make you laugh.
MPS: Besides the necessary place for the plot, what did the Texas-Mexico border offer to the story?
DM: For me, the golden era of spy stories is unquestionably the Cold War.  I looked for a way to bring the Cold War to West Texas in a somewhat plausible way, and proximity to Mexico and Latin America provided that in.  Latin America in the late 70s and early 80s threatened to become the next major theater in the proxy war between the United States and the Soviet Union.  That tension bleeding up to the Mexico-Texas border became a major plot driver.
Growing up in West Texas, I always held a romanticized view of El Paso & Juarez as an international community rife with intrigue, like the Casablanca of the southwest.  So you have this historic metroplex straddling an international border, a perfect setting for a spy story.  And surrounding the cities are beautiful mountains, a sun soaked desert, and the hard-scrabble stretches of the Transpecos region; the perfect setting for a Western.  I'd argue no region could be a better host for a Cold War Western.
MPS: This book felt like one of the best seventies or eighties action films never made. Were you influenced by movies as much as books?
DM: Absolutely, probably more so.  For the spy elements, I was naturally influenced by both the film and literary versions of James Bond – I used Ian Flemings' books as a style guide as I was writing.  But the Western elements were mostly inspired by film (and some Cormac McCarthy).  As I've said, Rio Bravo in particular was a major influence, as was John Carpenter's modern take on that movie: Assault on Precinct 13.  I wanted the feel of a gritty Sam Peckinpah Western or a grind-house B-action flick packaged as a modern pulp.  Even the cover art was inspired by the title cards of old movies.      
MPS: One reason for that cinematic feel is you write kinetic action passages that the reader can always follow. Is there anything you keep in mind when writing those parts?
DM: Physics, human anatomy, and logic mostly.  People,cars, and things should react realistically when acted upon and the motion should be described in a way that makes sense and is unambiguous.  I viewed my role as the play-by-play announcer calling a game the listener couldn't see; it's good to use some flourish, but it has to be clear who's rounding which bases.  
MPS: Was there anything you had to keep in mind when setting the book in the eighties?
DM: I did more research than one might think is necessary for a short, action novella.  I wanted there to be accuracy in the types of cars law enforcement used in 1984, the weapons and gadgets in use, the politics and cultural touchstones of the time, and even inconsequential things like what was on TV in the summer of '84.  I found that the 1980s, or any pre-cell phone era, actually helps a great deal with story telling.  Think about how many classic plots would be ruined if the characters had access to a cellphone or the internet.