Alex Berenson's John Wells espionage series often uses the headlines or predicts them for novels dealing with our county's involvement in the geo-political game. His latest, The Deceivers, has John and his team dealing with a Russian plot to put their man in the White House. Alex will be joining us at 2PM on Saturday, February 10th with fellow thriller writer Don M. Patterson. MysteryPeople's Scott Butki intercepted him earlier for a one on one interrogation.
MysteryPeople Scott Butki: How did this story, the latest about John Wells, come about?
Alex Berenson: Over the last few years I've grown increasingly interested in false-flag operations, where an intelligence service tries to carry out an attack and blame it on another country or a third-party. False-flags are obviously tricky, but if they succeed they can wreak havoc. In The Deceivers, the false-flag comes with a twist – the Russian spy agency isn't trying to carry out the attacks itself. It wants to use Americans against the United States in attacks that will look like Muslim terror. And to do so the Russians need some buy-in from semi-witting Americans. I tried to make the Russian scheming plausible, and I hoped I succeeded.
MPSB: This has a ripped-from-the-headlines feel (that's a compliment), where you took some current issues, like the question of whether the Russians meddled and influenced the election and took it to a larger but, hopefully, fictitious level. What was it like dealing with current events in your plotting?
AB: From The Faithful Spy, I've always dealt with current events. I like to say my books are reality-adjacent. In some cases they've turned out to be surprisingly prescient – notably The Secret Soldier, which focused on succession in Saudi Arabia – six years before the current crisis.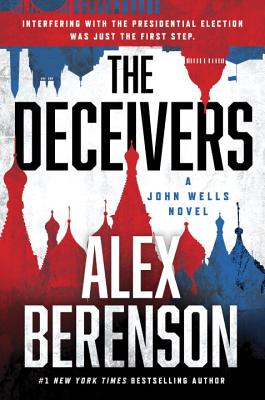 MPSB: As a fellow former newspaper reporter for, among other publications, The New York Times, i'm curious how your background affected your work as a novelist? Was that background helpful when dealing with current events in this novel?
AB: I do like to make my novels feel as real and authentic as possible, and I think being a reporter drives that impulse. Sometimes I have to remind myself the books are an escape, and Wells occasionally needs to. In general, I research my books thoroughly; over the years I've traveled nearly everywhere I've written about, including Afghanistan, Lebanon, Egypt, and Iraq. I'll talk to folks in the intelligence community (though they are more likely to be retired than active employees, given the risks people face if they discuss classified information).
MPSB: Do you miss being a journalist?
AB: Only when I see a really, really good story that I wish I could tell.
MPSB: What was the timing on this book? You definitely captured the anti-Muslim fervor of politicians including President Trump. Was that happening – those speeches -while you were writing the book or did you accurately guess that it'd be happening more often
AB: I started writing the book in the summer of 2016, so Trump's comments were in the news by then. There are a lot of reasons Trump won the presidency, but one is the attacks in Paris in November 2015 – which propelled him to the top of the Republican polls. The Orlando attack clearly helped him too.
MPSB: As someone who wrote about government intelligence, what do you think of how Trump has famously refused to hear part or all of his intelligence briefings, treated intelligence officers awfully, etc?
AB: Trump isn't entirely wrong that a lot of intelligence work is throat-clearing and that sometimes leaders just have to go with their gut instincts. But the disdain with which he treats the intelligence community is unconscionable – and bad for US national security.
MPSB: How did you go about researching this book?
AB: As with all my novels, a combination of traveling to the most important locations in the book, a ton of Internet research and reading, and finally talking to people in the intelligence community (though I don't want to overstate how much they will say).
MPSB: Do you want readers to take away something from this book? If so, what?
AB: I wouldn't presume to tell my readers what they should take away from my novels.
MPSB: Should people read your John Wells books in order or can they start with this one, the 14th in the series?
AB: The 12th! He's not that old yet. I write each new book knowing that some readers will be new to the series, so anyone who happens to pick this one up first will be fine.  That said, I tell readers who have read one of the books and feel committed to the series that they should go back to The Faithful Spy and read the rest in order – the books do build on each other, so reading them that way will give them the best idea of how John became who he is.
MPSB: What is a question you wish people would ask you? Here's your chance to ask and answer it.
AB: What's harder, journalism or fiction? Fiction, I think, because as a journalist you can always just return to the facts – as a novelist you have to look within yourself.