From the piney woods of East Texas to the dry landscape of West Texas, the Austin Mystery Writers and friends anthology Lone Star Lawless: 14 Texas Tales of Crime has it covered. The anthology takes us across the state with various law breaking. You can meet many of the contributors February 4th at 5pm when they come to BookPeople for a reading!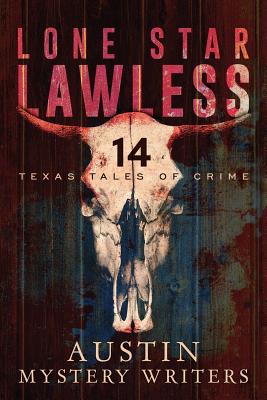 The Lone Star Lawless project was headed by the exuberant Austin Mystery Writers member Gale Albright. Albright describes the anthology perfectly in her introduction, writing, "The stories in this volume cover motel hell, medical menace, mortuary mayhem, sharp knives, kidnapping, theft, murder, assault by food, dangerous exercise, fickle fingers, and bad attitudes." Not to mention a retelling of the fairy tale Little Red Riding Hood, full of crime and a Texas twist. Now who could pass up that?
"One More Time" by V.P. Chandler, is set at the end of the Wild West era. A girl is kidnapped from a small West Texas town and the town wants the aging Texas Ranger, Ephram Babcock, to retrieve the girl before she's taken across the border to Mexico. Babcock reluctantly agrees. As he pursues the duo across the plains, he's haunted by a decision he made in his youth. The memory and regret become stronger as he gets closer to his quarry. It's a race to the border, a race to save the girl, but can he run from his past?
"Wild Horses" by Alexandra Burt is the story of Brad, who is running from trouble and his temper. Once a man has served time, he has only so many options available. He takes a job at a convenience store when things take a dark turn. Will Brad stay mum or will he find a way to break free?
"The Life of the Party" by Mark Pryor is a story filled with tongue-in–cheek mortician's humor. The reader sees the world through the eyes of mortician Andrew Banks as he prepares for a party. As the story proceeds, the tension builds in the same vein as Edgar Allan Poe or Alfred Hitchcock stories. The reader will be compelled to see the story to the end!
"Archangel Towers" by Gale Albright begins with a woman receiving a frantic phone call from her grandmother who is in the hospital. The grandmother makes crazy, nightmarish allegations about the staff and is adamant that they happened. Is the grandmother getting dementia? What is a granddaughter to do?
"Baggage Claim, Part 1: The Devil's Luggage" was penned by Janice Hamrick. The memory of a college prank never left Tyler Fenton. Even though he failed at the prank, he always remembered the thrill of it. Itching to try it one more time, he goes to the Austin-Bergstrom airport to steal an unclaimed bag. But it isn't a small bag that grabs his attention, it's a large trunk. Unfortunately for him, he's not the only one who wants that trunk.
"Baggage Claim, Part 2: Carry On Only" by Laura Oles also involves stealing a bag from the Austin-Bergstrom airport. But this story quite different from Part 1. Stealing bags from the airport is only one of the many things that Max does to supplement his income, and he's quite adept at it. But when he gets the bag home, he and his friend Belk make a discovery. Then comes the anonymous phone call, "I saw what you did."
"The Texas Star Motel" by Terry Shames follows the tale of an abused wife, Mona, as she's made her recent escape from her husband. She's shaken and has his gun, but needs to stay out of sight to complete her escape. Then she hears through the hotel's old and thin walls a woman being beaten in the room next door. Should she intervene or lay low?
"Point Blank, Texas" by Larry Sweazy is another tale about an old Texas Ranger. This story is set in 1934. Ex-Ranger Sonny Burton has lost his arm in a shootout with Bonny and Clyde and he's ready to retire after decades of service. Then Jonesy, the local sheriff shows up and tells Burton that his long-time nemesis, Billy Bunson, has not only escaped from prison, he has kidnapped the warden's pregnant wife. They turn to Sonny for help since he knows Bunson better than anyone else. As Sonny investigates, he gets the nagging feeling that not everyone is telling the truth.
"The Widow Black" by Kaye George is set in a small town where everyone knows everyone else's business. Marjorie lost her first husband due to an accident. Then the handsome and smooth Victor moves to town and starts schmoozing Marjorie and she feels young and sexy again. As things heat up, not everything seems to be as perfect as she thought they'd be.
"The Sandbox" by George Wier takes place around College Station. Jimmy Cook is a young real estate agent who works for the slimy Ray Milberger. One day Jimmy sees first hand how Ray has cheated his way to success. Jimmy takes a stand and Ray says Jimmy is ready for a new business venture. "You have a bright (future), kid, if you stick with me. You have to know where your bread is buttered…" As the story progresses the tension builds. Is Ray really going to include Jimmy in a business deal or does he have something else in mind as they head to a secluded area of the woods?
"Texas Toast: The Case of the Errant Loafer" by Manning Wolfe features Dr. and Mrs. Edward Littman, who are avid cyclists. As they cycle with their pack through downtown Austin, Dr. Littman is hit by a bakery van. The driver of the van, Zach Glover, swears he didn't veer out of his lane. Kim Wan Thibodeaux, also known as the Asian Cajun, is the defense attorney for the Glover. Who is telling the truth? This story is a courtroom drama that would make Perry Mason proud.
"When Cheese Is Love", by Kathy Waller. Love heats up between the timid librarian, Tabitha Baynes and the suave chef, Gonzalo. Tabitha has been on a stringent diet and worked hard obtain and maintain her svelte figure, but his food is so excellent! And no woman can say no to Gonzalo. At the launch of his new menu, showcasing Tabitha's favorite foods, Gonzalo declares his love for Tabitha. Finally! What could go wrong?
"The Bird", by Scott Montgomery is the gritty story of Jimmy Davis and Frog Lee. Frog is always getting in trouble and now is no exception. He slept with the wife of bad guy, Slick Jim (You've got to be stupid to sleep with the wife of someone named Slick Jim) and now Frog has a $200,000 bounty on his head. Fortunately Davis knows exactly where to find him. Frog is in Austin because he's with Davis' sister, Stacy. Now if only Frog and Stacy would get smart, Davis may be able to save their lives and collect the 200 grand.
"Little Red" by Gale Albright ends the anthology with a bang with Albright's Texas rendition of Little Red Riding Hood. Complete with crazy East Texas lingo and a voodoo hairdresser named Verna Lee, "Little Red" is a quick and inventive romp that's sure to make you laugh out loud.
And now for a bit of a personal note. We would be remiss if we didn't also mention the editor, Ramona DeFelice Long, who has worked her magic on the book. We are grateful for her enthusiasm and her attention to detail. This anthology has a special place in our hearts because Gale Albright passed away before its completion. She infused life, humor, and drive to our group. We aren't the same without her. So it is dedicated to her and the online proceeds will go toward the Port Aransas library that was heavily damaged in Hurricane Harvey.