Marlena by Julie Buntin made my top ten list for 2017 and with good reason.  Marlena, Buntin's debut novel, is anything but a beginner's work.  It is filled with wisdom, finely crafted, and utterly heartbreaking in the best of ways.  This is a book I have read countless times, one of those books I turn to for comfort and solace even if sometimes they hold exactly the opposite of this.  Buntin's novel is a miracle and a masterwork, and the reasons behind this are both incredibly obvious and entirely elusive.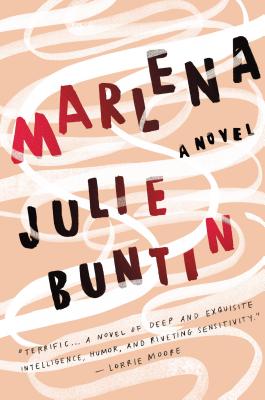 The novel revolves around a woman named Cat, who now lives and works in New York City, but once lived in a podunk town in Michigan where she was forced to struggle to get along with a dysfunctional mother and a less than satisfactory life.  Eventually—well, almost immediately—Cat meets Marlena, and a beautiful but terrifying friendship begins.  It is known from the beginning that Marlena will die.  It is known from the beginning that her death will be tragic, and that it will haunt Cat for the rest of her life.  It is known from the beginning that this is not a happy story, and perhaps these are the reasons I consider it a genuinely real crime novel: the fact that this book is filled with the inevitable darkness that envelops us all, the ways our mistakes come back to haunt us, and of course, you know, there's crime in the novel.  So, there's that.
Buntin is a master at writing.  Her prose is lyrical, and there have been several sentences I have read again and again (having read the book maybe six times now easily since its publication last year) where I have said, aloud, to myself or my partner, "I wish I had written that. I wish I could write that. Write like this." It's true. I wish I could write as effortlessly, as flawlessly, as Julie Buntin. There is no doubt this novel was years in the making, but it feels as effortless as a quickly jotted down diary entry (that has been meticulously planned, scrutinized and understood again and again to perfection).  The perfection of the prose is not off-putting or unfortunate in any way.  Instead, it feels like a woman trapped in a past that is imperfect, telling her story in the most brilliant way possible.
How many stories have we read about young women and their friendships gone wrong? Megan Abbott has a novel coming out this year (and Abbott has praised Marlena, if that's not a reason to purchase it alone) about a friendship turned upside down by a crime.  There are, of course, numerous—maybe innumerable—other novels, including other books coming out this year.  But Marlena stands out to me in a way similar, but different, than Abbott's Give Me Your Hand.  It is a divine examination of a friendship gone wrong, a love lost—not necessarily a romantic love, not necessarily I say again, but something more profound.  An instant in one's life that has changed this woman forever, and that she can never get back, and never be unchanged by.
Similarly, I cannot be unchanged now that I have read Julie Buntin's beautiful book.  Cat's voice is as alive as the voice in my head.  Buntin's first novel more than delivers: she excels, she succeeds, she is the Superman of debut novelists.  I do not regret a single time I've read Marlena again and again.  The most beautiful part of the novel is how genuine and authentic the novel feels, like this is a true story—and who knows, there may be lots of truth to it.  No, I take this back—any book this real, this alive, leaping from the pages, has to be based on some experience Buntin or any other remarkable writer has felt in his or her life: we are lucky to have Buntin to express this truth for us.