Robert Crais has been publishing great mystery-thrillers for more 30 years and with his new book, The Wanted, he's as good as ever. He consistently has mixed well-developed characters in books with good plots with excellent plot twists.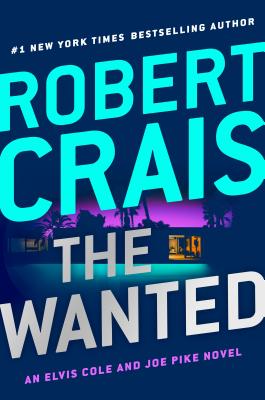 I last interviewed Crais here for MysteryPeople for a book, The Promise, where he mixed his usual protagonist, the always cool private investigator Elvis Cole and his partner Joe Pike with some new characters in a prior book and it gelled nicely.
For The Wanted it's back to the usual set up of Cole and Pike fighting some bad guys and some good folks who have made, let's say, bad life choices.
As the book starts a single mother hires Elvis Cole to help with her troubled son who for inexplicable reasons suddenly has lots of cash and she's worried he's dealing drugs. A little investigation and Cole realizes that the son and two of his friends are responsible for some high-end burglary. Gradually it becomes clear that a pair of fascinating, disturbing bad guys are on the tail of the burglary threesome. Will Cole be able to find the three and save them before they are harmed by pair? You'll have to read to find that out.
Crais was nice enough to let me to interview him by email.
Scott Butki: Thanks for the interview. How did you come up with the story for the latest novel featuring my favorite detective duo, Pike and Cole?
Robert Crais: Lots of crime in Los Angeles these days – burglaries and home invasions are on the rise, and many of these crimes are perpetrated by teenagers and young adults.
Elvis Cole is attracted to cases where he believes he can make a real difference, and the idea of helping a single mom find out the truth of what's going on with her son and save him is right up his alley.
SB:  I always like how you do dialogue and humor in your books. Do you think your early work writing for TV shows including "Hill Street Blues" helped you write dialogue and humor? What are other ways your TV writing help you as a novelist?
RC:  I'm just a funny guy. TV writing helped me block out a scene, visualize the action, write authentic dialogue.  It helped me to shape a story.  It helped me to see how much more I could do as a novelist.
SB:  Having written for TV – including "Miami Vice" and Cagney and Lacey, Quincy, and Baretta – I assume you pay attention to current TV shows.  What are some of your favorites and why?
RC: My taste in TV shows is all over the board. Loved "Breaking Bad," "Mad Men," love "Game of Thrones" (duh!), "Stranger Things," thought "Handmaid's Tale" was incredible.
SB: The book deals with loyalty, unconditional love and what it means to be a parent. Is there something you hope readers take away from the story?
RC: I hope readers are entertained and connect with the characters.  Most parents have experienced the feeling of unconditional love. In this story a mother is forced to imagine the worst case scenario.  If her son has committed a terrible crime, will she still love him?  How much can a parent forgive?  
SB: Why did you decide to dedicate your book to Otto Penzler? 
RC: Otto has been a friend, fan and supporter of mine since my first book, The Monkey's Raincoat.  In a way, all my books are dedicated to him.
SB: I enjoyed, if that's the right word, your terrible pair of dangerous, perverse guys, Harvey and Stemms. How did you come up with those characters?
Villains need to be as fascinating and as formidable as your hero. I wanted to create "bad guys" that had real personalities, who were many-sided, and who were also interesting.  These guys, like Elvis and Joe, have history together, have shared a lot of adventures.
Thanks to Robert Crais for answering our questions. His new book, The Wanted, is on our shelves now!