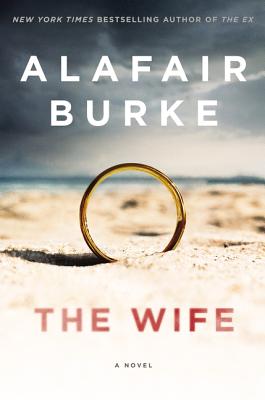 There comes a time in every prolific author's career when one has to ask "Is there any way for this author to get better? To improve upon their most recent work? To actually write something better than this?" For some writers, they go downhill after their peak—other authors only rise, never reaching that peak exactly (see wonderful examples like Laura Lippman, Alison Gaylin, Alex Marwood, and Megan Abbott).  The question now is: has Alafair Burke reached her peak? I sincerely doubt it—a writer of her talent can most likely reach unimaginable heights—yet it is incredibly hard to fathom Burke improving upon her most recent masterpiece, The Wife.
Burke kicks off the year in the grandest fashion, with a book that will compel you to the very end, even without a murder in its very beginning.  From the moment the book begins, we know that Burke's protagonist has committed perhaps the ultimate betrayal—that against herself, lying for her husband's defense. I have read this book countless times, as I tend to do before beginning a review, and it never ceases to amaze me—the language is fluid and nearly flawless, drawing the reader in.  The narrator, while incredibly deluded and not necessarily the picture-perfect definition of a feminist, is incredibly relatable.  The book speaks to the issues of our times, many of them dealing with women, rape, infidelity, and the permanence of love.
From the very beginning of the novel, I was roped in.  The reader is startled by the way Burke can transform the most mundane scenes into something extraordinary, ripping out incredible portions of her character's psyches in ways you would never expect.  I was floored again and again as revelation after revelation was revealed, chapter after chapter.  The book is such a quick read that, when finished, I felt compelled to start it over immediately, unsure if I had finished the novel or just begun.
This is not to say the novel is without a conclusion.  Boy, does it have a conclusion.  Alafair Burke is a master at revealing tiny little secrets that are actually big explosions, unraveling and unraveling her characters and plot until, once untangled, the reader is finally able to uncover the truth.  You think you know the truth from the beginning, and then you might change your mind in the middle, and then be completely floored by the end of the book by the smallest, slightest turn of the story: this is how The Wife works.  And I'm not afraid to call it a new masterpiece of the crime genre.
This past award season, Alafair Burke was nominated for the Edgar for The Ex, which works as a sort of companion novel to The Wife.  They feature similar characters, they are placed in similar settings, but these novels are completely different (and equally brilliant).  Here's the only issue: this is the year of the female crime writer.  So while I would say that Alafair Burke has the Edgar in the bag, with masterpieces like Laura Lippman's Sunburn and Megan Abbott's Give Me Your Hand being released soon, it's hard to tell which author will come out on top.  What's amazing about the crime community is: no one cares.  Each of these authors are improving daily, each new book proving that the preceding novel was only a precursor to something much more amazing and fantastic than the book that came before.  And Alafair Burke proves this beyond a doubt.  From the very beginning, you are hooked.  From the very beginning, you are roped in.  And it's all Alafair's fault.
Burke's newest novel is mind-blowing, spine-tinglingly good and awe-inspiring in ways that very few authors can aspire to be.  Pick up this book and find yourself lost in it.  Pick up this book and hours later, wonder where you have been, and how you got there.  This is the magic that Alafair Burke works in The Wife, which may very well be the Book of the Year.