Guy Bolton's The Pictures made my list of the best debut novel of 2017. It is a moody Hollywood thriller with making of The Wizard Of Oz as it's backdrop.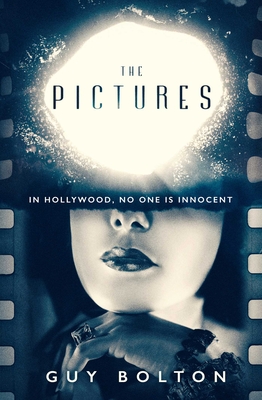 MysteryPeople Scott: How did The Wizard Of Oz get to be the movie that served as backdrop for the story?
Guy Bolton: Over a decade ago when I was a film student I was supposed to be doing a class on film noir. At the last moment they replaced it with a class on MGM musicals. I was devastated at first but one of the films we studied was The Wizard of Oz, a film I watched on repeat as a child. As I started researching the film I found out all this incredible trivia— it was most expensive MGM movie ever made and took fourteen writers and five directors to bring it to the screen. Then there was a young Judy Garland hooked on drugs, rumors of 'Munchkin' sex parties, a Tin Man who almost died from blood poisoning and a Wicked Witch with life-threatening burns from an on-set fire.
It struck me that the making of the movie was almost as interesting as the film itself. And I knew it would make an engaging and unexpected backdrop for a noir thriller.
MPS: Even though you are dealing with a different era, what from your own experience in the film industry did you pull from for the book?
GB: I can promise you none of my experiences have ever felt at all glamorous! In fact the main thing I took from working for ten years (predominantly in television) was bureaucracy. I love David Simon and how he infuses layers of bureaucracy in every strand of "The Wire" and I felt the same experience working in TV. At times it felt to me that decisions were being made by a handful of people at the top that affected everyone below. I brought that over to this Hollywood world of police and studios, as if the major Hollywood players were playing a giant chess game and everyone else were the pawns.
MPS: Jonathan Craine is a very unique protagonist in the sense he is not easy to read right off the bat. How did you go about creating him?
GB: It was important to me that I break convention. Most noir heroes are jaded underdogs who drink scotch and chain-smoke cigarettes. They've got a chip on their shoulder but an innate sense of right and wrong. They'll do anything to uncover the truth. They're heroes.
For Craine, I wanted to invert expectations on every aspect of his character. He's a debonair investigator who doesn't smoke and whose drink of choice is a Champagne cocktail. But more importantly, he's not a hero. He's a very flawed man who has spent the best part of his career as a Hollywood 'fixer' working for the studios. Only when he's tasked with covering up the apparent suicide of the producer of The Wizard of Oz does he start questioning his conscience. He discovers inner strength; he finds his resolve.
It was important to me also that this novel also be about fathers and sons. Craine's wife has recently died and he has a difficult relationship with his little boy. Craine coming to terms with his responsibilities as a father is very much at the core of the narrative too. The Pictures is really his journey of redemption.
MPS: You have your fictional characters interacting with the likes of Louis B. Mayer, Joan Crawford, and Frank Nitti. How did you approach the fictional mixing with the historical?
GB: Almost all of the characters are either based on or inspired by real people and events. I changed names where I felt necessary but I wanted to have genuine Hollywood icons like Louis B. Mayer in there to help my fictional characters come to life. It was crucial to me that my protagonists like Jonathan Craine and actress Gale Goodwin felt like they were real people in a real scenario. So much of what happens in the book is close to what really happened.
However, I had an important rule: beware of featuring real movie stars too heavily. People like Joan Crawford, Humphrey Bogart and Clark Gable have such a strong presence on the silver screen. They've taken on an almost mythic quality in people's lives. So I didn't want readers to lose their suspension of disbelief by bursting that bubble.
MPS: This being your first novel, did you pull from any influences or did you simply expand on your script work?
GB: I was heavily influenced by films like LA Confidential and Chinatown; I also have a background in screenwriting and I've noticed people often say they feel it's "cinematic". I like the pace and narrative structure of screenplays.
But for me, what was most important was that I avoid cliché. The archetypal detective story is told in a first person narrative in a hard-boiled style. I wanted to tell my story from a few different perspectives (especially female) and write it in a more classic style. I asked myself: "How would John Le Carre or Sebastian Faulks have written a 1930s detective story set in Hollywood?"
MPS: What can you tell us about your next novel with Craine?
GB: (you're the first person outside of my publisher hear this…!)
The Syndicate is almost finished and should be out later this year.
Eight years have passed since the events of The Pictures. Jonathan Craine has left Hollywood behind him and he and his son are now living on a farm in rural California.
But when infamous Vegas mobster Bugsy Siegel is murdered in Beverly Hills, Craine finds himself tasked by the mob to find out who killed him…