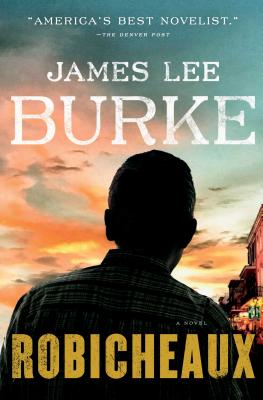 James Lee Burke remains a master of his game, one of the best writers out there. Some of the deserved praise – including getting the Grand Master Award from the Mystery Writers of America – is for his writing style, some for how he digs deep with plots and fleshes out his unique characters.
While I have interviewed Burke here for his book featuring protagonist Texas Sheriff Hackberry Holland I, and many Burke fans, prefer his books about Dave Robicheaux. These books are set in the towns and wetlands of Louisiana.
The new book, Robicheaux, as it name implies, features Dave, and while Dave has often faced major obstacles before in this book they seem to come from everywhere and every direction. Burke often writes about Dave going to AA meetings and struggling to not drink, but in this book the struggle is worse as he not only gets drunk but can't remember what he's done while drunk.
Meanwhile, Dave is mourning the loss of his wife, Molly, in a car accident. So when Dave encounters the man who caused the car crash…. And when that man is himself murdered… the big question becomes: Did Dave do it? And since Dave was drunk at the time the answer is not entirely clear.
Burke agreed graciously to let me interview by email. Oh, one other note he talks in the book, and in the interview about the Jefferson Davis 8, which you can read more about here.
The book has this author's note:
"The literary antecedents of this novel lie in two earlier works of mine. The unsolved murders in Jefferson Davis Parish formed the backdrop for the Dave Robicheaux novel titled The Glass Rainbow… These homicides are often referred to in the media as the Jeff Davis Eight.
The bombing of the Indian village in Latin America happened in 1956. I wrote about this incident in the short story titled "The Wild Wide of Life," published in the winter issue of The Southern Review in 2017."
With that let's get to the interview. Thanks to my minister, Rev. Meg Barnhouse, for helping develop some of these questions.
Scott Butki: I am so glad you brought Dave back but boy did you give him some stuff to work on in this novel. Why did you decide to have Dave encounter, and try to investigate the murder of, the man who killed his wife in a car crash?
James Lee Burke: My wife was in a similar accident in New Iberia and almost died.
SB: I've always admired how you write about the struggle so many face with alcoholism and using AA. Why did you decide to have Dave fall off the wagon in this book?
JLB: I don't plan the books. I think they already exist in the unconscious.
SB: In this book Dave seems a haunted man, partly due to what I asked about in the earlier questions. What did you hope to accomplish by putting him through all of this?
JLB: Mortality is not an elective study.
SB: I am happy you brought back some of Dave's friends in this book. Why did you decide to do so?
JLB: They're among the most interesting and brave people I have ever known.
SB: What do you want readers to take away from this book?
JLB: To fear an embryonic dictatorship and the divisiveness and racial hatred and self-doubt a dictator can inculcate in an electorate that loses faith in the Republic.
SB: When Dave imagines a just world what does that look like?
JLB: The egalitarian world that Jesus spoke of.
SB: What do you think might have worked in Dave to form his desire to be a hero, to throw himself into the ugliest mess and try to make it right?
JLB: Dave is the Chaucerian good knight. He's a man of conscience and honor and is not capable of being otherwise.
SB: A friend, Meg, asked me to pass on this comment: "I love Dave as a wounded hero.  I love his violence and how it lives along with his spirituality. I love the descriptions of the weather and the land. I think most of us identify with him as we struggle to be good people while dragging along concrete blocks of illness injury addiction or other complications and difficulties." Do you get a lot of feedback like that?  
JLB: Yes, I have. I don't think a writer could receive a better compliment.
SB: In past interviews you have told me you tend to draw from older sources, like the Bible and Greek mythology rather than contemporary ones. Why is that?
JLB: I subscribe to Jung's notion of inherited memory. I think the great stories are always within each of us. My father once said that both science and art are simply the incremental discovery of what already exists.
SB: One thing many fans of yours, including me, love is your use of language. Was your writing always like that or was there a time when you wrote closer to the traditional mysteries with lots of short sentences with the focus on plot instead of description and language?
JLB: I read the Hardy Boys when I was kid, and Mickey Spillane in high school, but neither had any influence on me. The great influences were John Dos Passos. James T. Farrell, Gerard Manley Hopkins, F. Scott Fitzgerald, Flannery O'Connor, Ernest Hemingway, and Robert Penn Warren.