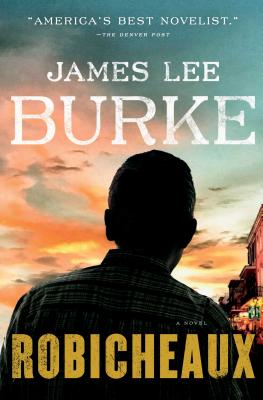 After close to five years, James Lee Burke brings back his Iberia Parrish sheriff's detective, Dave Robicheaux, simply using his last name for the title of the hero's twenty-first mystery. On the surface, Burke appears to be playing many of the series' old standards: colorful, knuckle-dragging gangsters, old money families, and ghosts of both the Civil War and Civil Rights south. However, changing times have brought those standards to new light with Burke giving them a more complex examination.
He layers plot upon plot, making Dave's life even more miserable than usual. We find him grieving Molly, the the third wife he's buried. He confronts the man who hit her in a car accident that killed her, then slips from his sobriety. Dragged out of his drunken black out, he visits the crime scene of a man beaten to death. He recognizes him as the driver and notices the bruises on his own knuckles.
Since he's a suspect, he can't be put on that case and has to look into a rape accusation. The accuser is the wife of his friend, Levon Broussard, a novelist with liberal leanings that only come in second to the romanticism of this family's confederate past. The accused is another contemporary, Jimmy Nightingale, a charmer from an old money family with ambition going in several directions, a senate seat currently one of them. Before his black out, Dave set up a dinner with all involved to help out his train wreck of a buddy Clete. Jimmy held the mortgage on his Clete's house, but wanted to option one of Levon's books for a movie he would do with Tony Nemo, a mobster with movie ambitions. Toss in some unsolved murders, a white supremacist leader, a scary hired killer with a code, and a murdered New Orleans pimp that ties most of it together and you have the makings of a quintessential Robicheaux novel. One could argue that the choice of title comes from a delivery of the elements we expect.
As we are hit with many of the reoccurring tropes and themes of the books, hero, writer, and reader now have more complicated views of them. As in one of the more lauded novels, In The Electric Mist With The Confederate Dead, a movie dealing with the Civil War is being filmed, this time with Robicheaux's daughter Alifair working on the screenplay. As in that book, Dave sees the ghosts of "boys in butternut", but Alifair wonders if they can make movie heroes out of the Confederates who are "today's Nazi's". Much like Levon, Dave can't help but hold onto their gallantry. For Levon, though, it goes deeper. It's where his demons rest and can be easily awakened to challenge his better angels. Jimmy Nightshade uses that heritage and populism to be one of the scariest power brokers Dave's gone up against. He has an ability to sweep up the masses into believing him as a savior for the new south, especially the disenfranchised. Dave observes his constituents at a rally.
His adherents wore baseball caps and T-shirts and tennis shoes and dresses made in Thailand. Walmart, a smartphone, a Tundra, and bread and circuses were symbols; they were a culture. The poorest neighborhoods in the state always had a coin-operated car wash. In twenty-four hours, a drop in oil prices could take everything they owned. They were the bravest people on earth, bar none. They got incinerated in oil-well blowouts, crippled by tongs and chains on the drill floor, and hit by lightning laying pipe in a swamp in the middle of an electric storm, and they did it all without complaint. If you wanted to win a revolution, this was the bunch to get on your side. The same could be said if you wanted to throw the Constitution in the trash can.
It's difficult not to think of another politician and election when reading this passage.
With everything going on, the focus of the story is Dave's relationship with his former NOPD partner Clete Pucel. Clete, working as a private detective, imbibes in every vice Robicheaux struggles to avoid. He often operates as a violent Falstaff to our hero in the series, yet Dave views him as the noblest man he knows. Their friendship is rooted in the that they each understand the other  better than themselves. Clete is the first to see through Jimmy and makes it a personal mission to be a thorn in his side, while Robicheaux is partially taken in by the southern gentility he pretends to reject. Jimmy and Levon are darker mirrors of Dave, with the reflection of Clete being the way to lead him out of the fun house. It is their friendship and acceptance that leads to any form of justice or grace in the book.
Robicheaux proves that James Lee Burke's hero can be timeless yet delve deep within his time. He is practically a Greek hero, enduring tragedies, stuck between the wars of petty gods, with the Achilles heel of alcoholism. He may be a step behind the times, but only adds to his complexity and character. He has aged well with his humor and full heart intact. May we be so lucky in our worlds that grow more messy and complicated.