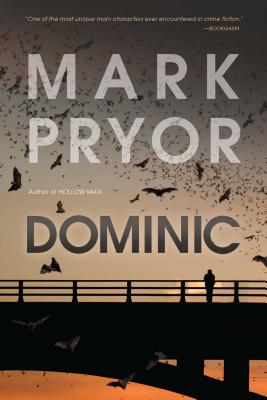 In
Hollow Man
, Mark Pryor broke from his square-jawed series hero Hugo 
Marston
 to enter the mind of prosecutor/musician/sociopath Dominic. The book showed another side and style to his talent. Now, this new year brings us the return of his anti-hero in
Dominic
.
The book takes place soon after the robbery, cover up, and revenge Dominic committed in Hollow Man, with him facing a few loose ends. A police detective keeps questioning Dominic while Bobby, a young man with his tendencies, keeps getting into trouble, and –most worrisome — Bobby's sister, who Dominic seems attracted to, keeps reminding him she knows what he did. Add a position for judgeship and our man begins to maneuver.
Pryor seems to have tapped into Hitchcock as he builds his intricate tale. He piles layer upon layer of plot and tension effortlessly, yet never revealing what he intends to do until the moment of truth. Knowing that we've 
learned
 Dominic's narration obfuscates from
Hollow Man
, he gives us differing points of view in each chapter. We are given a clearer view of the persona he exudes and where the cracks in his mask are that add to the tension. It also allows us to feel the moral blow back of Dominic's crimes since we learn to understand his victims the way he can't. Much like The Master Of Suspense, Pryor allows our anxiety to move between Dominic getting caught or his victims getting killed.
The book's succinct prose and stylish black humor cut to the bone and into the dark heart of our anti-hero. We find ourselves colluding with him, even though we know better and feel the results. With
Dominic
, Mark Pryor once again proves to be at his best when he is writing about the worst.