Alison Gaylin is one of our favorites, and she was kind enough to answer some questions from our contributor, Matthew Turbeville. Below is their conversation about her writing. 
Matthew Turbeville: Hi, Alison! It's so nice to get to talk.  I've wanted to pick your brain ever since a friend turned me on to What Remains of Me.  How did you get the idea for If I Die Tonight?
Alison Gaylin: Hi Matthew! Wonderful to talk to you as well! A couple of years ago, there was a hit and run incident in my area involving two boys from rival high schools. My daughter was younger than them, and what fascinated me was the way the story took on a life of its own among that younger crowd – how many false details were being spread about the incident that seemed to become "truer and truer" the more often they were repeated. So that was where the germ of the idea came from. I wanted to write something set in my area, and I had all these ideas for characters (Pearl, I'd come up with a long time ago, but she was a character in search of a story) so I used the idea of a hit-and-run in a small fictional town and took it from there.
MT: How do you manage such a large and varied cast of characters? It seems like it would be hard to keep up with so many personalities as a writer.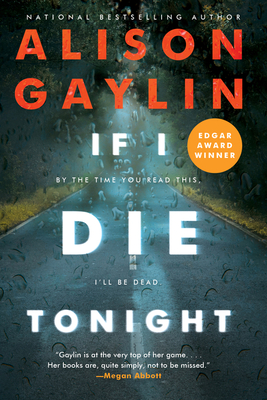 AG: Yes, there are a lot of characters (I always wind up doing that!) But to me, it's not the amount of characters but the amount of points of view that pose the challenge. I decided I was going to tell the story from four distinct points of view: Pearl, Connor, Jackie and Amy (with one more POV toward the end.) Each character has a number of other characters within her/his particular world (with many overlapping). Since these points of view were all so different in my mind, it wasn't that hard to keep track.
MT: Did you know the ending to If I Die Tonight before you began writing the novel?
AG: I knew what everyone's secret was, and what really happened on the night in question. But I didn't know how it would wind up playing out and how all those secrets would all be revealed until late in my first draft.
MT: What is your writing process like?
AG: I tend to write a lot late at night, and then make it coherent in the morning. And since I have a family and a day job (I work three days a week at a magazine) I've learned to write wherever and whenever I can. A lot of What Remains of Me was written on buses and trains. I still get a little carsick reading certain pages.
MT: Were there any characters you were particularly attached to? Any characters you didn't like?
AG: I was probably most attached to Pearl. I had the idea for her backstory a long time ago, so she'd been in my mind the longest. But I also really enjoyed writing Jackie because, as the mother of an only daughter, I've always wondered what it would be like to be raising boys. I liked writing all the characters, though. Finding that shred of humanity in an otherwise "unlikeable" character is really rewarding.
MT: You've approached many taboo areas in your writing: incest, rape, pedophilia, etc.  Is it hard for you to write about these topics?
AG: I think it's harder on my editor than it is on me! I tend to write about things that make me scared or angry, and I think it all comes down to betrayal. No matter how taboo or shocking the turn of events, I'm really just writing about betrayal over and over again.
MT: What books inspire you to write the way you do? Who are, in specific, your favorite female writers today?
AG: Oh, I have so many of them, many of whom have also become great friends. Laura Lippman and Megan Abbott write wonderfully complicated, fascinating characters. Alafair Burke and Lisa Lutz write such compellingly paced stories that I can't pick up one of their books unless I can afford to lose an entire day to reading. Also Alex Marwood, Katia Lief (now writing as Karen Ellis) Wendy Corsi Staub, Lori Roy… honestly I have too many favorite female writers to name!
MT: How do you write so prolifically? Where do you find the time to write so frequently and with such ease and grace? As a fellow writer, I can't help but be a little jealous.
AG: That's so nice of you to say. But honestly, the only way I can finish anything is to realize that the first draft is going to be the absolute worst piece of trash anyone has ever written. The good news is, trash or not, it will be finished, and when something is finished, you can always improve it. I should have said this in the writing process question, but really, my writing process is 80 percent heavy rewriting.
MT: Your last book, What Remains of Me, was up for numerous awards.  How does it feel to know that fans and critics alike adore your work? Do you feel the need to cater to a certain audience?
AG: I was thrilled that What Remains of Me got so much love! But I think my only concern as a writer is to write the best book I can. If I Die Tonight takes place as far from Hollywood as you can get, and though it's told from multiple points of view, it has a pretty straightforward timeline (unlike What Remains of Me, which goes back and forth). I like trying something a little different with each book. It makes it less boring for me (and hopefully for readers too!)
MT: What Remains of Me and If I Die Tonight are so very different.  How do you jump not necessarily between genres, but between totally different books with such ease? Your whole bibliography seems so vast and completely different.
AG:  I think that, while the settings and characters of my books do tend to be completely different, it's harder for me to let go of themes. The idea of an outcast teen being made into a boogeyman plays out in both books (Kelly by the press, Wade by his peers on social media). Also, the idea of how the powerful (wealthy) use the powerless, how callous human beings can be to each other and how we never really know those closest to us are prevalent themes in both books. (You can definitely find those themes in the Brenna Spector books, too!)
MT: What advice do you give to new and emerging writers? How did you break into the business?
AG: Be persistent, but don't be inflexible. And read! If an agent or publisher gives you constructive criticism, use it. Rewrite. I had an agent for my first book, and she sent it around to a bunch of publishers, most of whom said they liked the characters but not the plot. I took it back, read around 100 crime fiction books, and over the course of about five years rewrote the book from page one. I then sent it out again, got a new agent, and sold the book. (It was called Hide Your Eyes, and it was nominated for an Edgar for Best First Novel.)
MT: Do you have a favorite work of yours? What book are you most proud of?
AG: I think I'm always proudest of the most recently published book, and most horrified by the work-in-progress.