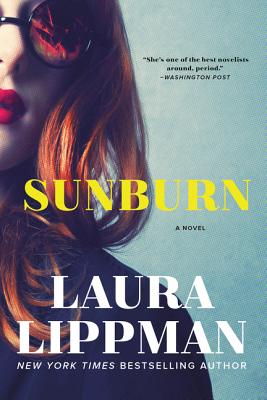 This book is by far the most delicious book of the year, and not because of all of its vivid descriptions of foods and eateries.  Sunburn is something you enjoy slowly, when you take it in it's like breathing it in, a delicate treasure to truly ponder over and think about.  I have already read the book three times and it has yet to fail me with its twists and turns and its dramatic conclusion, not to mention the oh-so-human element that makes up most of Lippman's writing.  Lippman is a master storyteller, but a master at understanding humans, too, and this is clear now more than ever in Sunburn, her return to glory after two years since the fantastic Wilde Lake.
Releasing February 18, 2018, this is a book to be anticipated.  Each Laura Lippman novel is a treasure, something to be pondered over and wondered in, as with a favorite of mine, After I'm Gone (which I've admittedly read countless numbers of times).  The story revolves around Polly, who has just deserted her family on a vacation and may have an even darker history than she's let known.  Her torrid romance and another crime that occurs—that of a house fire, with a solitary victim—puts Polly in the spotlight of the novel, along with several other mysteries revolving around her existence.
This book is not just fun.  It's a masterwork.  Based around the writings of Anne Tyler and James M. Cain, this is hardboiled noir at its finest.  Ms. Lippman has admitted that this is perhaps her favorite book yet, and it's easy to see why.  Sunburn is nothing is not a rollercoaster of fun and emotional suspense.  Her language is cutting and sharp, as precise and to-the-point as Cain at his finest, and the book is reminiscent of both Mildred Pierce and The Postman Only Rings Twice.
Don't let the rollercoaster of fun fool you: this is a heartbreaking (and, simultaneously, heartwarming) novel.  It will rip you apart.  Which is part of the fun of engaging in a reading experience with Laura Lippman.  She always knows how to tug at those heart cords one by one, and she knows exactly when and where to pull the hardest, and for what reason.  There is, like in most of Lippman's books, a revelation in the final moments of the book which is perhaps the most delicious moment of the entire novel, in which the whole truth of a part of the novel, and a greater truth at that, is revealed in its entirety. This is sure to stick with you well into the night after you stay up reading the novel, desperate for its conclusions.
If you're anything like me, you will re-read this novel again and again.  There are Easter eggs and clues and twists that you will miss the first time around, and with such a short and compact novel, that is certainly a feat.   Lippman's newest novel is not a book to be taken lightly, no matter how many Best Beach Read articles she makes this year.  Lippman has redefined what it means to be a noir writer in the twenty-first century—especially a woman writer—and she has done so with ease and precision and love. Here's hoping you love this book as much as Ms. Lippman does (and as much as I did—again and again).