While shopping for your crime fiction fan for the holidays, or wrapping something for yourself, you may feel like giving to a good cause. These anthologies are packed with some of today's best talent and support some fine causes.
Protectors & Protectors 2 edited by Thomas Pluck
In these two volumes are over 70 writers contributing very short fiction for these anthologies that help fund The National Association To Protect Children and PROTECT, an organization that lobbies for legal rights of abused kids. It is a great way to find new writers to enjoy.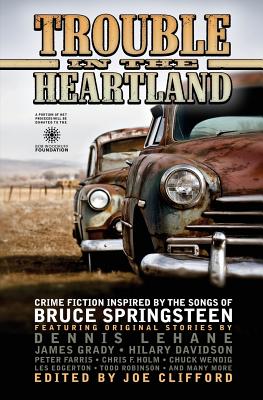 Trouble In The Heartland: Crime Fiction Inspired By The Songs Of Bruce Springsteen edited by Joe Clifford
Dennis Lehane starts the ignition to this baby that moves like a muscle car through over forty stories inspired by song titles from the Boss. Many of the authors like Jordan Harper, Hilary Davidson, and Jen Conley make a stand like a working class Springsteen hero and the proceeds go to The Bob Woodruff Foundation that helps wounded veterans.
Unloaded edited by Eric Beetner
As a way to raise money for the United States Against Gun Violence, Eris Beetner collected authors like Reed Farrel Coleman, Joe Lansdale, and Alison Gaylin to prove they didn't need a gun to tell a crime fiction story. This is  collection of top talent at the top of their talent.