Alison Gaylin is one of the many women leading the evolution of the crime fiction genre.  Her prose is precise and glowing, with characters that are alive and, to be cliché (which she never is), "come right off the page." Less complex but equally as riveting as 2016's What Remains of Me (still one of my favorite mysteries of all time), If I Die Tonight concerns a hit-and-run, a mysterious young man, and multiple relationships that are only moments away from surfacing as the novel progresses forward.  Gaylin is, once again, at the top of her game in this novel due out in March, 2018. But what makes Alison Gaylin such an amazing writer and why is everyone from Megan Abbott to Laura Lippman singing her praises?
It begins with Gaylin's plots.  No one plots a novel quite like Alison Gaylin does, and any author or fan will speak up to this fact.  Her novels are so tightly plotted, it's hard to imagine Gaylin without an outline by her side at any given moment during the writing process.  Yet, when asked about how she goes about plotting out her novels, her process seems more loose and less strict than that of other authors who stick firmly by their pre-written outlines.  Gaylin somehow creates a magic that is bewitching both for the reader and the critic, finding a way to mystify and conjure up a spell that will entrance readers throughout the entirety of the novel, and almost effortlessly so.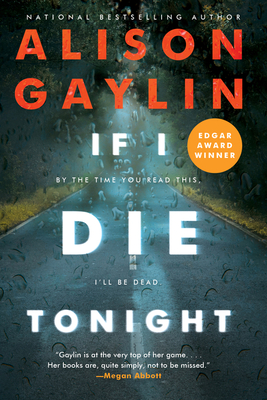 Another compelling aspect of Gaylin's writing is her thoroughly developed characters, all of whom get equal page-time.  There's Jackie, the mother of Wade and Conner, who's trying to do her best as a single mother after her husband has left her years prior.   Conner, likewise, is struggling to keep up social appearances while his older brother Wade is somewhat of an outcast, someone who easily becomes suspect when a hit-and-run occurs in the beginning of the novel. Enter the rest of the vivid and vast cast of characters, from the novel's victim, a high schooler who's essentially the boy next door, his girlfriend and her friends, along with a pop singer well past her heyday and now desperately clinging to any sort of fame.  Also at the center of this mystery is Pearl, the newbie detective who just wants to have a suitable workplace and also may be running away from a past she cannot escape.
Obviously, there are a million places this novel can go, and Gaylin pushes each of her characters, as well as the plot and the reader, to his or her limits.  Gaylin is not afraid to push the taboo, as seen in What Remains of Me, and here she does so again, proving exactly how dark she can get in an already dark genre.  Those new to Gaylin are well past her breakthrough, what with her Brenda Spector series, and her fantastic standalone novels.  Now it's simply time for the world to be aware of her genius, which seems as imminent as the ending of her novel: we know something is coming, we may even know what is coming, but when will it hit us exactly, and how?
Try to guess the ending of If I Die Tonight. Try and guess the killer, who is culpable and who is not, and you will find yourself shocked again and again with each turn of the page. In the end, everyone is culpable in one way or another, and no one is left getting off free. This book will warm your heart and rip it out again all in one paragraph, so be forewarned: Gaylin is not for the reader afraid of feeling, afraid of guessing, or afraid of turning into an investigator themselves.
A true master of the genre, each new book by Alison Gaylin is a book to be treasured.  In 2018, a year full of books by masters of the genre like Laura Lippman, Megan Abbott, Lori Roy, Alafair Burke, and others, this is truly a book that stands out among the rest.  Give If I Die Tonight a try.  You will not regret it.