Dark History And Rodent Relations: A Discussion With David Hansard About How The Dark Gets In
How The Dark Gets In is the second novel featuring Porter Hall. This time the New Yorker with a western background goes back to his roots and the dark secrets of the past when a friend goes missing in Austin. David Hansard will be joining the three authors who make up Miles Arceneaux on November 18th at 6PM to sign and discuss their work, but we put David in a dimly lit room to interrogate him early.
MysteryPeople Scott: I thought this book had one of the best starts. How did you come to using a mouse to reintroduce Porter?
David Hansard: As the story opens Porter believes he's going to die alone in the windowless, basement room of a New York police station and end up buried in an unmarked grave in Potter's Field. When a mouse touches his fingers, he feels a kinship and some small comfort knowing there's another creature in the same predicament. The initial scene, which is set in September, is a flash-forward from the bulk of the story that takes place in June in Texas. I start with it because it's the point at which the stakes are highest for Porter. His peril creates tension and raises questions that—I hope—hover over the entire story.
Since the setup involves "kidnap by cop" and illegal incarceration, I spent a lot of effort trying to make those seem feasible. After all, how realistic is it that actual law enforcement officers would take someone off the street and illegally lock them up in a police station? A couple of months after I wrote the scene stranger-than-fiction reality conveniently intervened. It turned out our local El Paso County, Colorado sheriff had been doing that exact thing to his political enemies and others he wanted to shake down.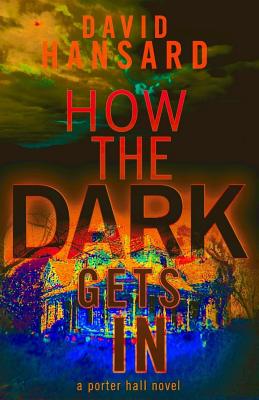 MPS: What made you want to dive into Porter Hall's past with the second book?
DH: With any reasonably complex character there is a personal history that has made them who they are. We all know Chandler's dictum that "the knight" should have no past and no future, at least not ones the reader knows, and should not exist outside his mission. That works for Phillip Marlow. It wouldn't work for Porter Hall, who, unlike Marlow, is reluctant amateur PI. The events of his own life draw him into his adventures and misadventures. One of Porter's defining attributes is infection with the "white knight" syndrome, his compulsion to rescue "damsels in distress." The irony, which is not lost on him, is that the surest way for a damsel to end up in distress is by spending time with him. It's the inciting event in One Minute Gone and repeats more than once in How the Dark Gets In. Being a "rescuer" is his nature, but it's a trait that has also been exacerbated by the loss of his older sister when he was ten.
MPS: Family plays an important part in various ways through the story. What did you want to explore with it?
DH: Porter feels responsible for the death of his sister at the hands of a drunk driver more than thirty years ago because he created the situation that caused it. Only by returning to that period of his life can her death, and the way it has shaped and still controls him, be understood. That event underlies the dysfunction that destroyed his family and was responsible for, in his mind, the premature deaths of both of his parents. It has left him with guilt and loneliness he will never escape.
MPS: The story takes place across the the U.S. from New York to Austin and Porter's Wyoming family home. Did that present more of a challenge or something less confining?
DH: How the Dark Gets In is a personal odyssey for Porter, spatially and temporally, from his present life in New York City to his life as a younger man in Texas and finally to his Wyoming childhood. Not only are these times and places not distinct to him, they are a continuum, an echo chamber in which events long past and those of the present overlap, concur, and talk over each other. The places, disparate as they are, mirror and mingle among themselves. What's the Faulkner quote? "The past isn't dead. It isn't even past." And where did I see it? Oh, right. On the back cover of the book.
MPS: Porter Hall is such a distinctive, yet fitting name for your character. How did you come up with it?
DH: After my mother read the first chapter of One Minute Gone, she said, "I can't believe your main character is named Porter Hall. Did you realize my mother's maiden name was Porter and your other grandmother's maiden name was Hall?" Really, Mom? That truly is an amazing coincidence.
MPS: What has made him the ideal character for you to run with?
DH: I am in awe of writers like Martin Cruz Smith who have the imagination and intelligence to visit a place for a few days—Moscow, in Cruz's case—and then create a rich, compelling, and viable narrative peopled with engaging and believable characters. Unfortunately, I'm neither smart enough nor creative enough to do that so I lean on a character who shares major portions of my own backstory and has similar tastes and interests. Porter and I even wear the same size boots. That's s very convenient when we travel together because we can trade off footwear. And, by a really weird coincidence, his name happens to be the same as two of the surnames in my family tree.