Let's face it.  By this point, we don't know what to expect from Lori Roy.  This talented writer leapt onto the scene in 2011 with Bent Road, an extraordinary novel about family ties, scorned lovers, and women—yes, women—and their roles in America's past.  The only—or one of the very few—consistencies in Roy's writing seems to be her interest in the past, not exactly a nostalgia so much as an exposure, a way of shedding light on the past as it actually was, not as how people dream it up into being.  This interest in the past, as well as an incredible gift for prose and characters, setting and atmosphere, has earned Roy two Edgar Awards, one for Best First Novel and another for Best Novel.
Roy is one of the few women to earn such an honor, and she has fought hard to do so.  Roy's writing is stellar, her smoothly crafted sentences all pieced together carefully like an elaborate puzzle.  What connects the reader most to Roy's writing, something that she has noted herself, is the likability of her characters. Take Annie from Let Me Die in His Footsteps as one example of her excellence in this area.  Roy has created a singular voice and character who screams past the borders of the pages into the reader's very mind, echoing there for some time with both joy and admiration.  This, Roy says, is one of the aspects of good writing that helps create suspense for the character, and if Roy's masterful storytelling is any clue, she's right.
Let Me Die in His Footsteps reads almost like Southern Gothic meets magical realism, with girls seeing their future husbands in the reflections of well water, curses, and family feuds to boot.  I myself have found myself reading Let Me Die in His Footstep again and again, passing the book on to friends and family members who have found how they adore the protagonists (yes, there are multiple narrators) as much as I do.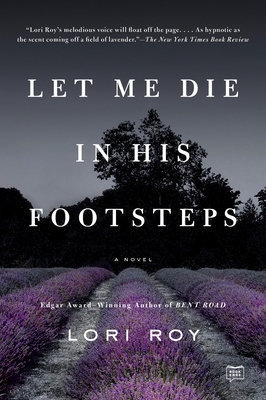 Roy writes about women.  She writes about women who are fighting to establish a place in their world or, in the case of Annie in Let Me Die in His Footsteps, she writes about women who are trying to step outside of their set roles in society, the curses that bind them to the people they are supposed to be as opposed to who they actually are.  When I first began reading Let Me Die in His Footsteps, I felt the air catch in my throat, the way Roy tells Annie's story, the story of her mother, the story of her aunt who may or may not be evil and cursed like Annie, all raw and real and so incredibly delightful.  This is a book you submerge yourself in, ignoring the real world for a moment in an effort to understand these characters and how their past fits into your present.
Ms. Roy's subtext is subtle, but there's clearly a lot to get from her writing.  She is not a woman to press her reader with over-the-top ideas or slam them with political views they may not share.  Roy is the type of writer to express her views through her characters and through their stories, as any fine writer might.   Let Me Die in His Footsteps does not rely on the familiar tropes of crime novels alone, but instead is told like a beautiful unwinding coming-of-age story that glows with warmth and reality despite its magical nature.  While enchanting and sometimes magical, Roy's writing is also firm and gritty, and to quote another great writer of Southern Gothic literature, Flannery O'Connor once said, "Fiction is about everything human and we are made out of dust, and if you scorn getting yourself dusty, then you shouldn't try to write fiction. It's not a grand enough job for you." Ms. Roy is doing a grand job. That is without a doubt.