Stark House Press keep so many of the great crime writers, particularly from the fifties and sixties paperback era, alive and well in print. Whether W.R. Burnett and Gil Brewer or even more obscure authors like Jada M Davis or Arnold Hano, they bring some of their best work for today's readers to enjoy. Crime fiction author and expert Rick Ollerman has contributed dozens of introductions to Stark House reprints. They are much more than a few pages of praise, being highly informative and written with a personal view and opinion that often explores the genre and writing itself. Recently, most have been collected, along with new material, in Hard Boiled, Noir, and Gold Medals.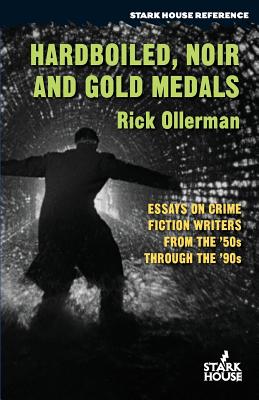 One can tell Ollerman goes through some deep reading before he writes an intro. One on Harry Whittington, "the king of the paperbacks" runs thirty pages. He finds the best possible way to connect history and critique. when writing about Peter Rabe, he deconstructs an action sequence from Murder Me For Nickels, showing how he inserts the protagonists emotional point for view of the violence, without breaking the flow of the writing. Even if you have loved these writers and books before, you will have a better understanding of why.
Ollerman comes at his subjects from fresh angles. When discussing the two lifelong friends who wrote under the successful pseudonym Wade Miller, he compares them to the two cousins who made up Ellery Queen, who shared a much more fraught collaboration. He puts Texas author Juda M. Davis on my my radar. Born into poverty so rough, his family barely noticed the depression, Davis traded most of his creative years for a lucrative career at Southwestern Bell. As well as shining a light on an author deserving an audience, also uses it as a discussion on a an artists need to create that conflicts with the need to provide for himself and his family.
Ollerman weaves new, more personal pieces through his work, giving it the feel of an educated fan sharing the books he loves with another. He will put you on the trail of new authors and maybe challenge a few of your opinions, all without spoilers. After reading Hard Boiled, Noir, And Gold Medals, Rick Ollerman will need no introduction.
Rick Ollerman will be joining Eryk Pruitt and Mike McCrary for our Hard Boiled Past & Present discussion panel on January 6th, 7PM