Laura McHugh is a writer to be delighted in—a crime author who both seems old to the genre while creating incredibly new and ambitious works of fiction adored by fans and critics alike.  Her debut novel, The Weight of Blood, won the International Thrillers Writer award, lining up McHugh with the toughest of her competition.  Ms. McHugh is known to be a night writer, and this comes through with many of her scenes in her two novels to date—including her most recent stellar accomplishment, Arrowood.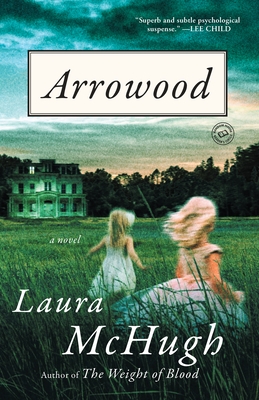 Arrowood is at once a dark tale of crime and corruption and a vivid family saga.  McHugh incorporates some of the best of her own locale and the history of her characters in creating one of the most vivid and suspenseful reads I've come across in quite some time. While The Weight of Blood is frankly flooring, Arrowood takes the idea of memory, family, and the unreliable narrator to such new heights it's remarkable this novel even exists.
One immediately thinks of fellow-heavyweight Gillian Flynn's Dark Places when approaching Arrowood's premise. A young woman returns home after many years—and creating and cultivating many secrets of her own—only to be contacted by the leader of a group of people who try and solve murder mysteries, a man who believes he has solved the mystery of what happened to her sisters decades before. It's a spicy premise but the similarities between these two great novels pretty much stop here.  Arrowood is a novel not to be defined by comparisons, defying all expectations inside its pages.
Arrowood is at once strikingly brilliant, incredibly frightening (so much it makes one seem vulnerable in the best and worst of ways), intriguing in its mystery and enchanting in its incredibly elaborate setting.  McHugh weaves a nearly perfect narrative, with a pitch perfect voice for the story, around a decades old mystery that seems both impossible and inevitable to be solved.  The reader learns early own how they will be completely satisfied with the conclusion of McHugh's sophomore effort, if only because of Ms. McHugh's writing abilities, so all-encompassing and wise-beyond-their-years.
Returning to the comparison between Gillian Flynn and Laura McHugh—and there really is no true comparison, these are two women who write in their own right, in their own way, in their own settings, in their own voices, with stories like loaded pistols ready to be fired right in their readers' direction—the crossing of ideas and storylines, the telling of two similar stories by two completely different writers seems inevitable here.  Just as Gillian Flynn had to expose the murky, dirty side of one untruth, so Laura McHugh has to expose her own.  If anything is to be learned from McHugh's novels, it's that we know nothing, not the novel's ending, not the novel's twists and turns, and certainly not ourselves, either as the reader or the narrator.  But what narrator really knows their own story?
As for McHugh's third book, little is known about the follow-up that can probably only be described as "epic." Count Laura McHugh with other Lauras (like Ms. Lippman), with the Gillian Flynns and the Megan Abbotts and the Alison Gaylins of the world.  She deserves the credit that's due to her, and any reader deserves the chance to find themselves lost in the pages of her novels.